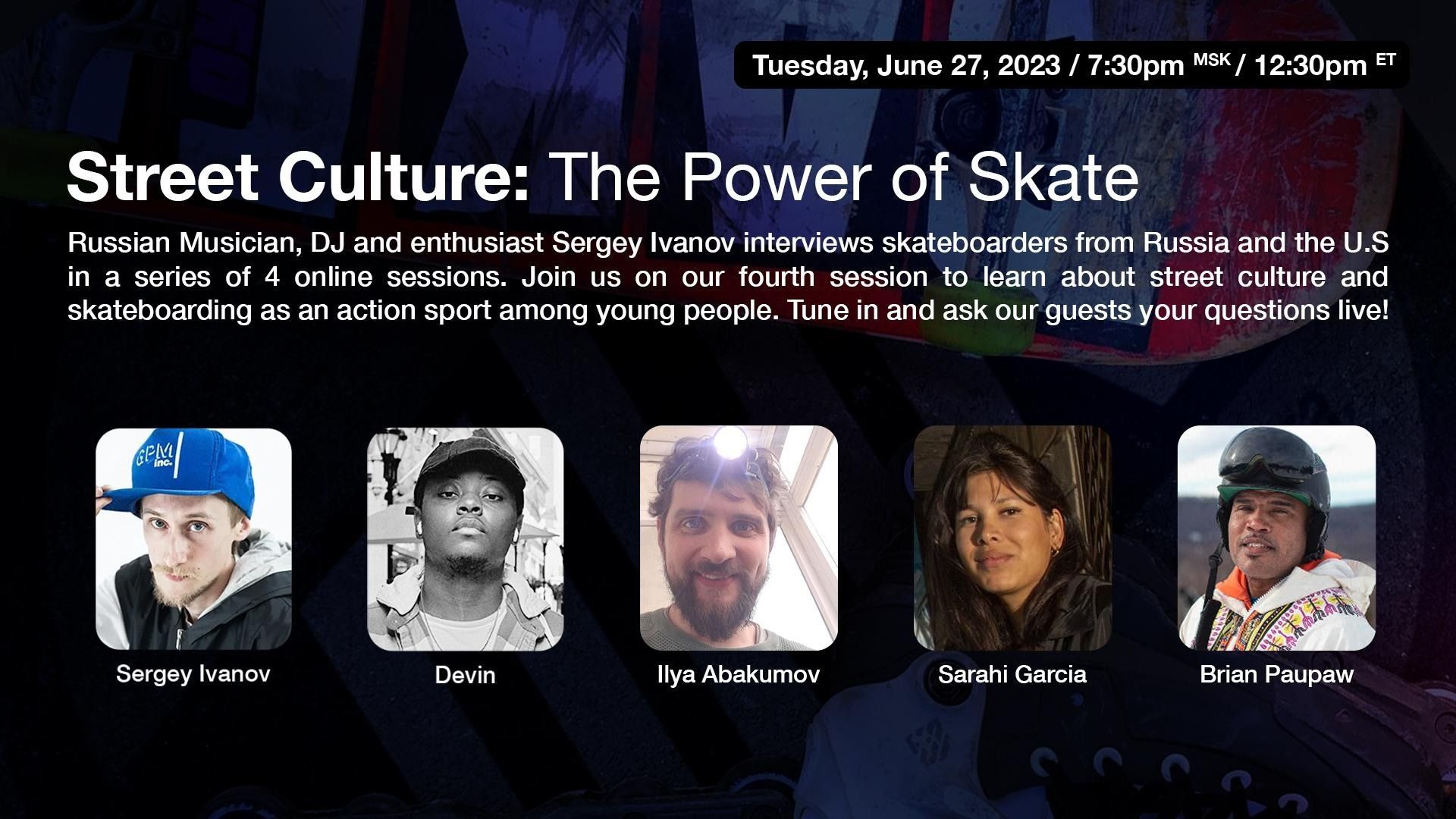 First invented in the 1950s in California skateboarding now can be found anywhere around the world. Skateboarding is a youth subculture that emphasizes the importance of self-expression and taking risks. Considered one of the top 10 sports today, this unique sport is increasingly popular, despite its reputation as an outcast or rejected sport. Skateboard culture values individuality, creativity, and freedom. Skaters are known for their unrelenting dedication to progressing the sport holistically. The community is built on mutual respect; instead of one-upping each other, skaters often encourage their peers and embrace their differences.
We invite you to find out about the history and current state of skateboarding, about international skateboarding cultures and their manifestations in big cities and small villages. Join AMC's Street Culture: The Power of Skate Series of live conversations and don't miss a unique opportunity to share your thoughts on the development of not only skateboarding but also the entire street culture and movement. We'll talk about skateboarding, old-school and new styles, and approaches, to understand what was then and what is happening now.
Going live every Tuesday evening in June 2023, this online series features Russian musician and DJ Sergey Ivanov in deep and engaging conversations with members of the international community of skateboarders, who compare skateboarding in their communities and cultures and discuss the effect of it on youth empowerment and sports. Tune in live on the American Center in Moscow's YouTube channel, VK group, and Telegram channel to enjoy the conversations and to ask the artists questions!
Please join our guest speakers on June 27 at 7:30 p.m. MSK to learn about street culture and skateboarding and ask your questions live!
***
About the guest-speakers:
Sarahi Garcia (Sara), hailing from Venezuela, is a 27-year-old skateboarder with a remarkable 12-year tenure in the sport. Overcoming a severe knee injury that sidelined her for a significant portion of her skateboarding career, she made a triumphant return to the sport four years ago. Prior to her dedication to skateboarding, Sarahi honed her musical talents as a cellist in the symphony orchestra. However, her true passion lies in skateboarding, a pursuit she wholeheartedly embraces. Besides her skateboarding prowess, Sarahi is a multi-talented professional, excelling as a tattoo artist, model, and artist. Relocating to Santiago, Chile at the age of 19, she subsequently pursued her dreams in Barcelona as of August 2021. Sara is supported by esteemed brands such as Jart, Cariuma, and Nixon.
Grim D, a skater and rapper, finds his roots in Hartford, CT. At the age of 25, he became a part of the esteemed Monster Army, a revered youth sponsorship program. Through their support, Grim D soared to new heights, attracting the attention of his local skate shop, Eightsixty Custom, who provided sponsorship until its closure. Grim D's passion for skateboarding persisted, leading him to secure sponsorships from other local entities throughout his teenage years.
Devin, known by the moniker DJ, is a 23-year-old artist and photographer hailing from Hartford, CT. With a penchant for both traditional and digital art, Devin explores various mediums to express his creative vision. His artistic pursuits encompass a wide range, including portraiture, street photography, landscapes, and capturing noteworthy events.
Runar Kaliulin is a skater from Krasnodar, a member of extreme sports XSA association and one of the first Proriders in Russia.
Ilya Abakumov is  a rider and local community leader from Arkhangelsk city. He organizes local events and curates a youth skatepark in the city.
About the moderator:
Sergey Ivanov is a Chief executive of Noosphere NGO, musician, DJ, poet, independent researcher. Participant and winner of the numerous music festivals and challenges (from Jazz to poetry and hip hop). Organizer of the events related to street culture and Hip Hop: festivals, conferences, jams, masterclasses, theater plays, and social activities. In 2012 Sergey got Ph.D. in Cultural studies at the State Pedagogical University, with the dissertation about Russian Hip Hop culture. He was also a Moscow skate rider in 2000-2009.
***
ALL AMERICAN CENTER IN MOSCOW EVENTS ARE FREE OF CHARGE / ВСЕ МЕРОПРИЯТИЯ АМЕРИКАНСКОГО ЦЕНТРА В МОСКВЕ БЕСПЛАТНЫ
***
This event will be livestreamed on the American Center in Moscow's YouTube channel, VK group, and Telegram channel.
To receive an email reminder 30 minutes before the online event begins, register below and leave a valid email address.
To join other AMC Online programs, please check the American Center's website and TimePad calendars.