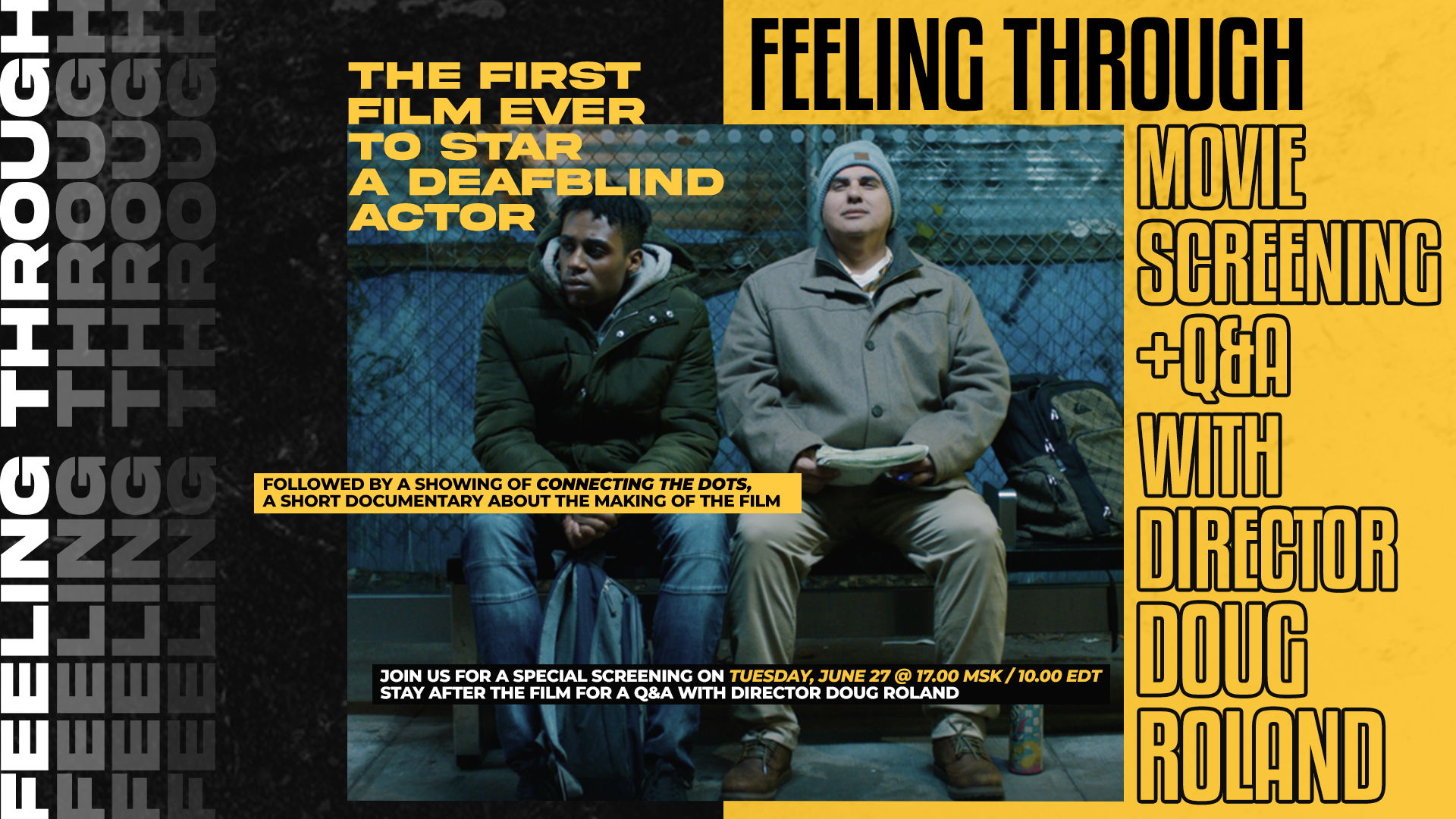 In honor of the Deafblind Awareness Week, which is observed this year from June 25 to July 1 and aims to raise awareness of the condition and make the world a more deafblind-friendly place, please join us on June 27 at 5:00 p.m. MSK for a free screening of Feeling Through. Written and directed by Doug Roland, Feeling Through made history as the first film to star an actor, Robert Tarango, who is both deaf and legally blind, and it is based on a true story about an encounter between director Doug Roland and a deaf-blind man named Artie. The screening will be followed by a screening of Connecting the Dots, a short documentary about the making of the film Feeling Through and a live Q&A with film director Doug Roland. Tune in to ask your questions live!
Timing:
17:00-17:45 MSK / 10:00 a.m. -10:45 a.m. EDT – Feeling Through and Connecting the Dots: Film Screenings
17:45-18:45 MSK / 10:45 a.m. -11:45 a.m. EDT – Q&A with Film Director Doug Roland
Synopsis and trailer:
Feeling Through is a coming-of-age story that follows Tereek, a teen wandering the streets of New York, desperate for a place to crash when he encounters Artie, a deaf-blind man in need of help getting home. From an awkward meeting between strangers emerges an intimate bond, and a journey that forever changes Tereek. Winner of over 150 film festival awards, this Oscar-nominated film is a universal story about the power of human connection despite whatever differences we have. 
About the guest speaker:
Doug Roland is an Oscar-nominated director for his film Feeling Through, which is the first film to star a DeafBlind actor. Featured on The Nightly News with Lester Holt, The Daily Show, in The New York Times, and LA Times and winner of over 150 film festival awards, Feeling Through is executive produced by Oscar winner Marlee Matlin and was made in partnership with Helen Keller National Center. Doug has used the film and companion documentary to create accessible screening events and speak at conferences, institutions, and schools around the world about collaborative, inclusive storytelling. 
Doug produced the short documentary, Barefoot Empress, which is executive produced by Dr. Deepak Chopra and directed by Michelin star chef and humanitarian, Vikas Khanna. They have used the film to raise funds in service of providing high quality education for girls in underserved communities across India. To date, Barefoot Empress has helped rehabilitate 18 classrooms in India.  
Doug's short film Jada became a viral sensation with over 25 million views on YouTube. He produced the feature film Life Hack which won 16 festival awards, including Best Independent Feature at the Cleveland International Film Festival. He studied film at the University of Wisconsin-Madison and FAMU in Prague.
Accessibility
The event is in English with open captions in Russian.
To learn about the film Feeling Through, go to the film's website.
***
ALL AMERICAN CENTER IN MOSCOW EVENTS ARE FREE OF CHARGE / ВСЕ МЕРОПРИЯТИЯ АМЕРИКАНСКОГО ЦЕНТРА В МОСКВЕ БЕСПЛАТНЫ
***
This event will be livestreamed on the American Center in Moscow's YouTube channel, VK group, and Telegram channel.
To receive an email reminder 30 minutes before the online event begins, register below and leave a valid email address.
To join other AMC Online programs, please check the American Center's website and TimePad calendars.