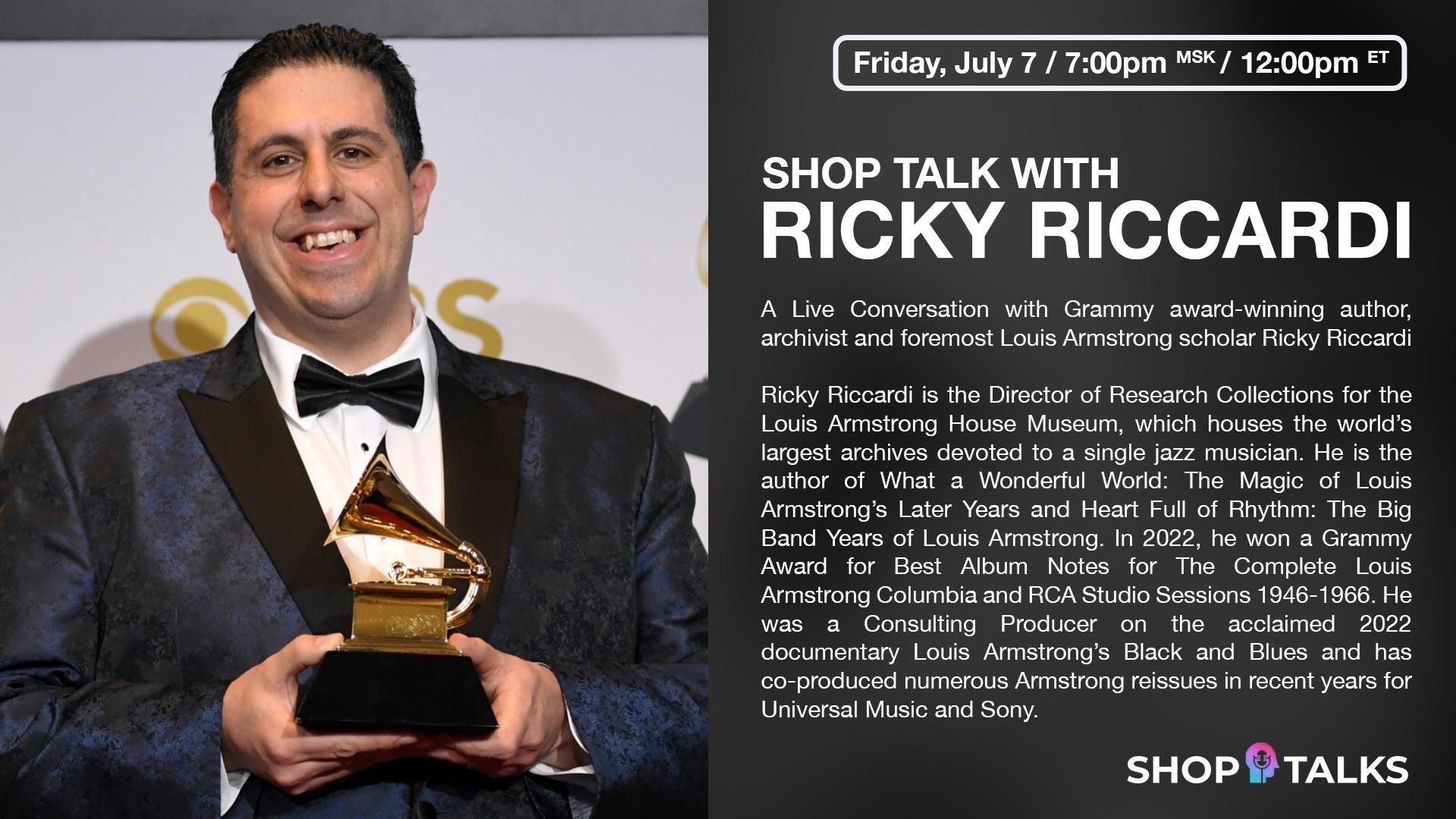 Ricky Riccardi is Director of Research Collections for the Louis Armstrong House Museum and author of What a Wonderful World: The Magic of Louis Armstrong's Later Years and Heart Full of Rhythm: The Big Band Years of Louis Armstrong. In 2022, he won a Grammy Award for Best Album Notes for The Complete Louis Armstrong Columbia and RCA Studio Sessions 1946-1966. He was a Consulting Producer on the acclaimed 2022 documentary Louis Armstrong's Black and Blues and has co-produced numerous Armstrong reissues in recent years for Universal Music and Sony.  Please join Ricky Riccardi on Friday, July 7 at 7:00 p.m. MSK as he tells his story of growing up to become the world's foremost Louis Armstrong scholar and director of the world's largest archives devoted to a single jazz musician. Tune in and ask questions live!
About the guest speaker:
Ricky Riccardi has been with the Louis Armstrong House Museum since 2009. He was originally hired as Archivist and now serves as Director of Research Collections. Ricky is the author of two critically-acclaimed, award-winning biographies on the legendary jazzman. 
The Museum's 60,000+ piece Archives, that Ricky is the custodian of,  are available for researchers around the world. He has been playing the piano since the age of seven and has sat in with various bands in New York and New Orleans, as well as leading his own small groups in New Jersey since 1999. He has a Master's Degree in Jazz History and Research from Rutgers University.  
Ricky has also written the liner notes for over a dozen Armstrong releases, including co-producing multiple reissues for Universal Music and Mosaic Records. In 2022, he won a GRAMMY for "Best Album Notes" for Mosaic's "Complete Louis Armstrong Columbia and RCA Victor Studio Sessions 1946-1966. Ricky initially encountered Louis Armstrong in 1995 when he saw him perform "Basin Street Blues" Ricky considers himself not just a historian but also an advocate for Armstrong's values. He still feels the same sense of joy and wonder that moved him so much as a teenager.  
He is immensely proud of the role he's helped play in Armstrong's legacy but knows there's still much work to be done.
***
ALL AMERICAN CENTER IN MOSCOW EVENTS ARE FREE OF CHARGE / ВСЕ МЕРОПРИЯТИЯ АМЕРИКАНСКОГО ЦЕНТРА В МОСКВЕ БЕСПЛАТНЫ
***
This event will be livestreamed on the American Center in Moscow's YouTube channel, VK group, and Telegram channel.
To receive an email reminder 30 minutes before the online event begins, register below and leave a valid email address.
To join other AMC Online programs, please check the American Center's website and TimePad calendars.