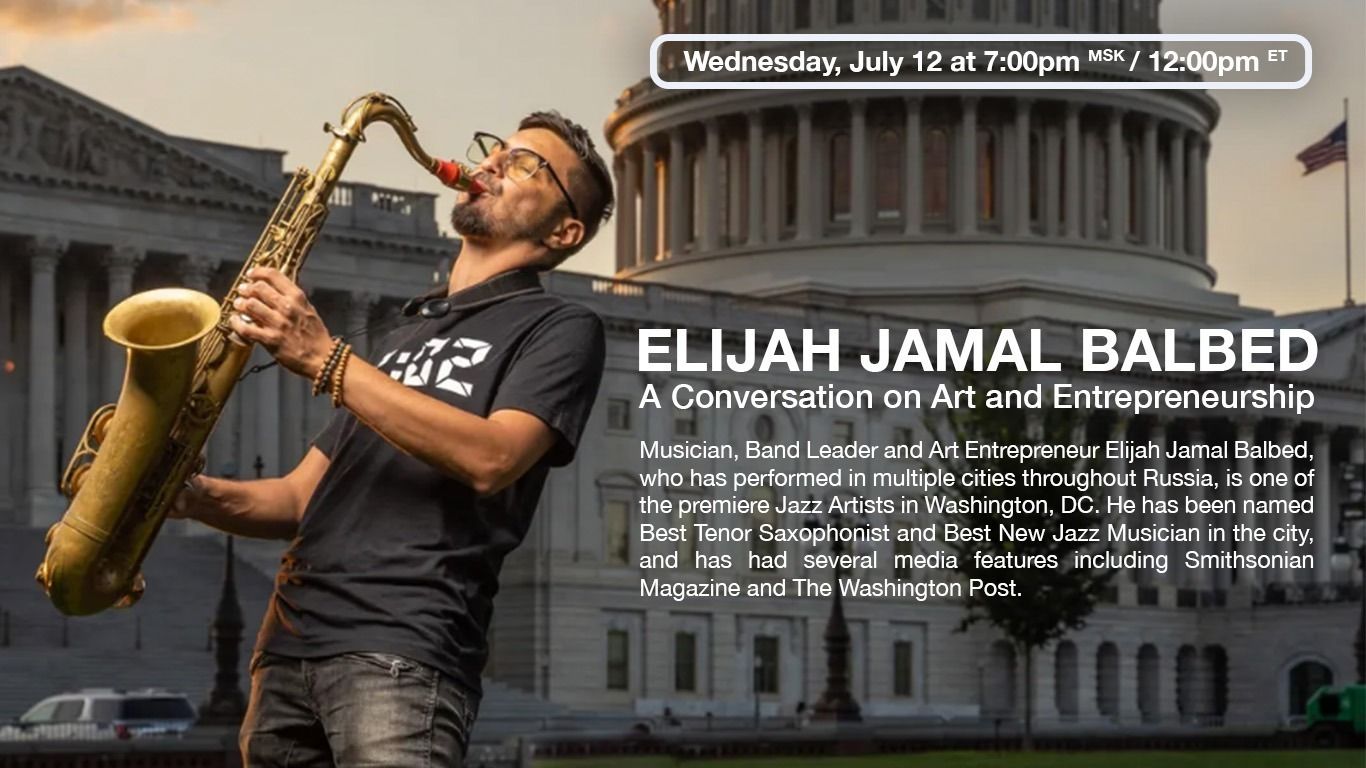 Join us on Wednesday, July 12th at 7:00 p.m. MSK (12:00 p.m. EST) for a live conversation with Elijah Jamal Balbed. Elijah Jamal Balbed, an award-winning Jazz artist from Washington, DC, will share his experience and journey in music and entrepreneurship. Having won the title of Best Tenor Saxophonist and Best New Jazz Musician in the city, his work has been widely recognized and featured in several media outlets including Smithsonian Magazine and The Washington Post.
Elijah will delve into his musical journey, the challenges and triumphs of being a band leader, and the crossroads of his art and entrepreneurship. You'll gain insight into the vibrant jazz scene of Washington, D.C., and the life of a dedicated musician and entrepreneur. Tune in and ask you questions live!
About the guest speaker:
A native of the DMV area, Elijah Jamal Balbed is a significant figure in Washington, DC's jazz scene. Having won the 2020 DC Jazz Prix Competition, and being named Best Tenor Saxophonist (2013) and Best New Jazz Musician (2009) by the Washington City Paper, Elijah's contributions to jazz have been recognized and celebrated widely.
Aside from his extensive musical achievements, Elijah has also established himself as an International Artist, performing in Japan, the United Kingdom, Jazz at Lincoln Center Doha (Qatar), and on the Capital Jazz Cruise. In 2018 and 2019, he led cultural diplomacy tours in Russia on behalf of the U.S. State Department and the U.S. Consulate in Yekaterinburg, sponsored by the Forum for Cultural Exchange (FCE).
Elijah continues to perform with notable artists while dedicating time to education and sharing his wealth of knowledge with younger generations. Don't miss this chance to tune in and hear from Elijah directly on his extensive journey and experiences in art and entrepreneurship.
***
ALL AMERICAN CENTER IN MOSCOW EVENTS ARE FREE OF CHARGE / ВСЕ МЕРОПРИЯТИЯ АМЕРИКАНСКОГО ЦЕНТРА В МОСКВЕ БЕСПЛАТНЫ
***
This event will be livestreamed on the American Center in Moscow's YouTube channel, VK group, and Telegram channel.
To receive an email reminder 30 minutes before the online event begins, register below and leave a valid email address.
To join other AMC Online programs, please check the American Center's website and TimePad calendars.